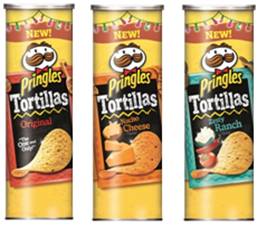 Mississauga, Ont. – Kellogg Canada Inc. has launched Pringles Tortilla Chips.
And just to make it more fun the company is asking Canadians to weigh in on the great #PringlesDIPbate. Do you dip them or don't dip them?
According to a recent survey, the Pringles Tortillas Great DIPbate Survey, dipping is the Canadian way. In fact, a strong majority (62 per cent) opt to dip them while only 21 per cent say they don't dip them.
Dipping appears to be more of a young person's flavour with nearly three quarters (74 per cent) of Canadians age 18 to 34 favouring the union between chip and dip, compared to roughly half (51 per cent) of those age 55 and over.
To follow the DIPbate (from Sept. 1 to 14), join in on Twitter and Facebook using #PringlesDIPbate.
The new Pringles Tortilla Chips come in three flavours: Original, Nacho Cheese and Zesty Ranch.