COVID-19: Rules of game must be changed to ensure supply of food
By John G. Keogh
Food In Canada
Business Operations
COVID-19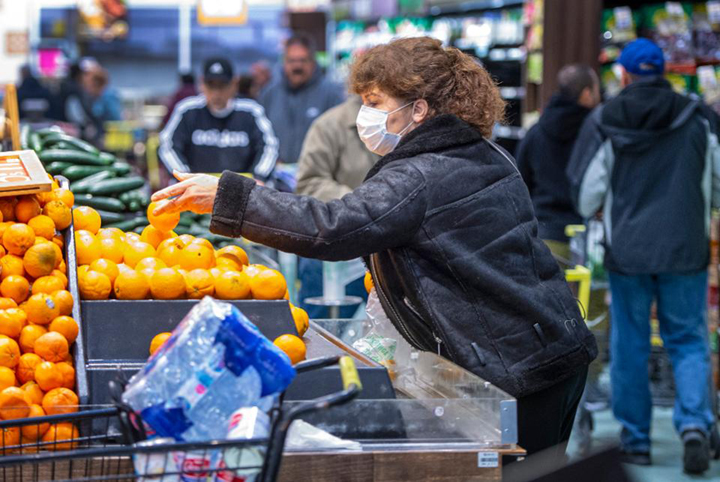 By John G. Keogh
March 20, 2020, Toronto, Ont. – Our world has entered into an unprecedented period of profound social upheaval created by COVID-19 that demands firm and decisive leadership. Leadership that is intensively focused on our survival, on our collective actions and required behavioural changes – to build the foundations to thrive after this threat to human health and safety abates.
Leadership is gender-neutral and does not demand a particular age, race, role or religion. Leaders are defined by their ability to inspire an "all of society" approach to addressing the challenges we face today. Importantly, as a society, we now have to think and act very differently than before. Pre-COVID-19 leadership guided the formulation of the "rules," rules that, to a large extent, brought us to where we are today. But these rules will not help us to overcome this crisis or thrive beyond it. We must change the "rules of the game," so ingrained in our culture, hard to envision, hard to implement and hard to enforce. But first, we must understand what exactly are these rules of the game, how can we change them, and where do we start? Who should take action? And what action should be taken?
In this article, I briefly discuss anti-trust laws in the context of the food and consumer goods supply chains in "peacetime and wartime." I propose that competitors need to collaborate and use current collaboration tools, frameworks and advanced technologies. I suggest that food safety regulators may need to re-allocate scarce human resources to critical areas, and local public officials may need to relax specific by-laws. The article ends, summarizing key actions that need to be undertaken by food producers, retailers, regulators and by government officials at every level.
Anti-trust laws – in peacetime
Canada was the first country in the world with an anti-trust law enacted in 1889 (Competition Act), followed a year later in 1890 by the United States with the Sherman Act. The acts are intended to create a level playing field for competition and market efficiencies to flourish. Businesses must comply with anti-trust laws or risk enforcement actions that can damage reputations and carry significant financial penalties. Regulators also review proposed mergers and acquisitions to ensure that consumers' interests are maintained in the face of a market monopoly, duopoly (e.g. two big players like Boeing v Airbus), or oligopoly (e.g. four supermarkets with 75-per-cent market share). Regulators remain vigilant and watch for market abuses and criminal acts such as price-fixing, bid-rigging, price-gouging etc. Canada has recently experienced an episode of anti-trust, where leading retailers committed an indictable offence by engaging in an illegal price-fixing cartel that lasted 14 years. The cartel overcharged some of the most economically and socially vulnerable Canadian consumers for bread. Price-fixing is a despicable crime that abuses consumers' trust. Still, while consumers may forgive quickly, they may never forget.
Anti-trust laws – in wartime
Anti-trust laws served us well in peacetime. However, in times of great strife or crisis like COVID-19, we have to modify these rules and regulations, regulations that helped mature our societies and protect our businesses and consumers. The public health threat posed by COVID-19 is considerable and entering into a public welfare emergency phase. In this phase, governments may enact "wartime measures" such as the Emergency Act in Canada and take temporary control of specific industry sectors to ensure the health, safety and wellbeing of citizens. Governments can restrict or prohibit travel, evacuate citizens, re-purpose properties and invoke many emergency measures such as the regulation of the distribution and availability of essential goods like food, consumer goods, medicines and other supplies.
In the absence of potential wartime measures, the following are my recommendations;
Food Businesses:
Transportation: Companies must collaborate urgently to ensure that critical resources such as transportation are fully optimized, to enact efficient logistics and avoid waste such as empty trucks driving long distances (often called the "Empty Miles" problem).
Capacity Planning: Some companies may have more raw materials than production capacity, whereas others may have more production capacity than raw materials. For essential food and consumer goods items, businesses should co-ordinate on the total demand for a region and make visible their on-hand days of supply for raw materials, finished goods etc. We need a proactive system to balance supply and demand in every sector of our economy.
Critical Resources: Essential resources and specialized equipment are needed to ensure our food and consumer goods industries, such as manufacturing and processing, remain operating. This will require a concerted communication and collaboration efforts by businesses. Existing communication and collaboration platforms can be leveraged; for example, online job vacancy platforms might be engaged to create a portal with essential resources needed for business continuity by food and consumer goods companies. Human resource policy and other security/access rules must be flexible if essential staff from competitors are urgently required. These online platforms may also consider contributing to a call-to-action for volunteers with specific skills.
Signalling Supply: In order to flatten the demand curve and ensure adequate availability, food and consumer goods companies (who have strong signalling strength) need to engage collaboratively to signal to consumers as these particular companies/businesses are perceived as both competent and trustworthy by citizen-consumers.
Retailers:
Shelf Space: Retailers should consider de-stocking non-essential products to increase shelf space for essential, high-demand goods.
E-Commerce: Due to urgent social distancing requirements, some retailers are encouraging shoppers to order online. In this situation, retailers should put a quota on products with supply-demand imbalances. See below Quota.
Quota: To ensure fair distribution, retailers must immediately set an in-store and online quota allocation for all high-demand or essential goods (e.g. four tins of soup, two jars of spaghetti sauce, two bags of rice). For volume items such as toilet paper, one pack of 24 rolls is sufficient per average family, with few exceptions.
Collaborating: Retailers should consider collaborating on supply-demand balancing and "sharing" of critical resources, goods and tools to help overcome this crisis.
Resources: Engage volunteers in your community to help re-stock shelves. Consider those who are at low risk, including younger people or those who may be considered immune (recovered), as per public health agency guidelines.
Loyalty: Retailers should utilize their loyalty programs to disseminate information concerning product availability and advice on non-peak shopping hours.
Regulators:
Resources: Suspend routine enforcement activity to focus on high-risk foods only. Delegate specific responsibilities to competent firms and re-deploy scarce human resources from food processing factories to other critical areas. Competent food companies will continue to operate and produce high-quality, safe food.
Anti-Trust: Remain vigilant for market abuses such as bid-rigging, price-fixing, price-gouging in stores and online. Ensure consumers are protected from unsafe, untested or counterfeit products.
Signalling: Signal to food companies and retailers that collaboration during this crisis is permissible. In principle, public officials and politicians should not be signalling to consumers about supply-demand of food and consumer goods as their signal strength is weak on topics outside of their control, accountability and responsibility. The exception is where the Emergencies Act is invoked to control supply chains.
Food Security: Primary producers, food processors and others in the food chain, especially in the U.S. and Canada, are highly dependent on migrant workers. With border closures, there is a looming food security situation. Public health agencies and politicians must review border closure policies with urgency. Existing technologies can be utilized to track and monitor the health and location of foreign workers while respecting their rights.
Labelling Laws: Without risking the health and wellbeing of consumers with allergies or faith-based dietary needs, certain products could be exempted from specific labelling requirements (e.g. dual language) if they are sourced from other jurisdictions and made available in one language only.
City and Town Mayors:
By-laws: Advise businesses that by-laws related to delivery times and street parking to replenish retail stores will not be enforced.
Parking: In the absence of public transportation, and to facilitate additional staff for shift work, advise businesses that employees and volunteers can park free-of-charge on city streets.
Click here to access the author's previous article titled COVID-19: Regaining trust of citizen-consumers through effective signalling.
Click here to access a pre-print of a co-authored book chapter titled The Future Food Chain: Digitization as an Enabler of Society 5.0 – Forthcoming.
The author acknowledges feedback on an earlier version from Dr. Brian Bedard, Dr. Karen Hand and Jason Bashura.
About the Author:
John G. Keogh is a strategist, advisor and management science researcher with 30 years in roles as director, VP and SVP in global supply chain management, information technology, technology consulting and supply chain standards. He is managing principal at Toronto-based, niche advisory and research firm Shantalla Inc. He is an army logistics veteran, having served in United Nations peacekeeping missions in the Middle East and is trained in military interventions and emergency response. Keogh is also a veteran Canadian police reservist and trained in law enforcement, emergency and disaster response and public order. He holds a post-graduate diploma and an MBA in Management and a Master of Science in Business and Management Research. He is a doctoral researcher focused on transparency and trust in food chains at Henley Business School, University of Reading using the lenses of agency theory, signalling theory and transactional cost theory. Google Scholar Link.
---
Print this page