New report one-year post-pandemic start shows confidence in Canada's food industry
Food in Canada Staff
Business Operations
Specialty Foods
Agri-Food Analytics Lab at Dalhousie University
Canada
Food Manufacturing
report
Survey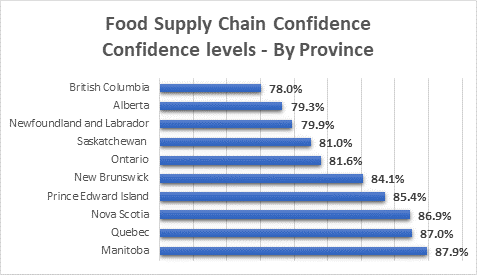 The Agri-Food Analytics Lab at Dalhousie University, in partnership with Caddle, has released a new report about consumer confidence on our food industry, one year after the pandemic began. At the end of February 2021, a total of 10,005 Canadians were surveyed on confidence and satisfaction – and overall, were quite positive for the food industry.
On food safety, results were very encouraging. A total of 72.2% of Canadians have confidence in the food safety of their products, despite the pandemic. The survey also assessed how Canadians felt about food safety, regardless of the pandemic. Results suggest that 74.9% of Canadians "generally feel food products in Canada are safe", so the difference with the pandemic is negligable.
The highest food safety confidence rate in the country is in New Brunswick with 79.9%, followed by Manitoba at 76.9%. The lowest rate is in Newfoundland and Labrador at 70.6%. On satisfaction, a total of 73.7% of Canadians are satisfied with the safety of their food products despite the pandemic. Satisfaction in food safety garnered very similar results.
Interestingly, Canadians who are part of the Gen Z[3] group have the lowest confidence score at 65.1%. The highest confidence score is with Boomers[4] at 77.2%, followed by Gen Xs[5] at 72.1%, and Millennials[6] at 69.1%.
On how food products are sustainable,[7] results were very divided. Both confidence and satisfaction levels were very similar. A total 25.1% of Canadians are not confident that food products are produced in a sustainable way (i.e., environmentally friendly, resource efficient, ethically responsible). On satisfaction, the percentage was 24.1%. Most Canadiens are both confident and satisfied with how food products are sustainability produced. The survey also measured how Canadians feel about the sustainable aspect of food production. Only 25.4% of Canadians feel that "generally, food products are NOT produced in a sustainable way." Again, the difference is minimal.
On food access,[8] most Canadians appear to be quite confident that the food industry will continue to deliver. Only 17.4% of Canadians believe the Canadian food supply chain will not provide enough food for everyone at some point. The survey did not include any questions about food affordability but there is belief that some Canadians may be experiencing some level of anxiety in relation to food security due to socioeconomic pressures generated by the pandemic. Confidence levels also vary between provinces. The most confident province in our food supply chain is Manitoba, followed by Quebec. The least confident is British Columbia.
But results also show an interesting confidence paradox. When asked if they feel that people will not stockpile food due to the COVID-19 pandemic, only 38.4% agreed. British Columbia has the lowest percentage of consumers who are not concerned about stockpiling, at 29.7%, followed by Alberta at 34.7%. The highest percentage is in Prince Edward Island, at 54.6%. In essence, more Canadians believe Canadians could stockpile food again than Canadians who have confidence in the food industry. In other words, Canadians appear to have more confidence in the food industry than in fellow Canadians.
The confidence in people working in the food industry is also very high. A total of 79.6% of Canadians believe that people who work in the food supply chain care about providing food during the COVID-19 pandemic. We consider that number to be very high considering the various disruptions and challenges the food industry has faced over the last 12 months.
The survey also looked at food authenticity.[9] Results show most Canadians are not very concerned about food fraud or food mislabeling. A low percentage of Canadians, 18.4%, are not confident that food products are authentic, and products are labelled correctly. Some reports in Europe and Asia have suggested that food fraud cases are on the rise due to COVID-19, but it does not appear to worry Canadians at this point.
The biggest challenge for the food industry appears to be on the health front. On the health aspect of food products, results were less positive. Only 38.4% of Canadians said food products sold in general are healthier than ever. Most Canadians do not feel their food products are healthier since the start of the pandemic. Quebec has the highest rate at 45.1%, followed by Saskatchewan at 44.3%. British Columbia has the lowest rate at 29.7%, followed by Alberta at 34.5%.
Full report here.
---
Print this page