More cheese, please
Food in Canada
Exporting & Importing
Food Trends
Processing
Products
Regulation
Dairy
Canadian Dairy
CETA
cheese
cheesemakers
Flavourful artisanal cheese production continues to improve in Canada, but with import quantities about to rise, how will the industry handle the challenges of CETA?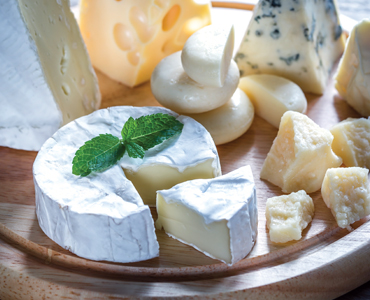 By Treena Hein
Cheese love is on the rise in Canada. While we drank a little less milk in 2015 compared to 1996, each Canadian on  average consumed a whopping 1.8 kg more cheese, according to the Government of Canada's Canadian Dairy Information  Centre. And in 2016, cheese sales were higher by more than five per cent compared to 2015, notes Dairy Farmers of Canada (DFC) director of Policy and Trade, Yves Leduc. This is due to a variety of factors, says Leduc, including changes in consumption habits that reflect an aging and more diverse population.
This growth in demand has obviously been positive for Canadian cheese producers, but going forward, Leduc is hopeful sustained growth might alleviate some of the impact of CETA (the Comprehensive Economic and Trade Agreement between the European Union and Canada) as it becomes ratified this year and fully implemented over the next six years. This is the same positive view that DFC held in 2015 when contacted for the Food in Canada dairy report that year. "CETA will have a direct impact on our cheese market," Leduc explains. "We were opposed to the cheese concessions since the start of negotiations, but the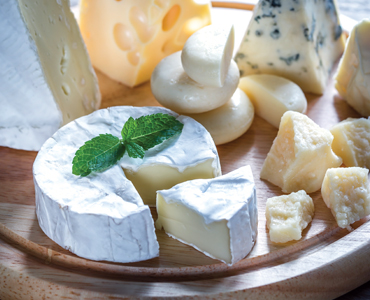 Government of Canada found the concessions necessary to conclude an agreement. We believe smaller cheesemakers will be impacted more from CETA than larger ones. Unfortunately, European cheeses will benefit from a comparative advantage with the same types of Canadian cheeses because the dairy industry in European countries is supported by a large amount of government funding and the size of their cheese businesses is typically larger."
Dairy Processors Association of Canada (DPAC-ATLC) spokesperson  Andrea Genereau agrees there is concern that Canadian consumers will switch from purchasing European-style Canadian cheeses to similar ones imported under CETA. "European cheeses have a cost advantage over Canadian-made cheeses," she says, "and cost is a key driver for many consumers."
According to the DPAC-ATLC, CETA will more than double tariff-free cheese imports from the EU, taking the amount of cheese imported into Canada from four per cent to eight to 10 per cent of domestic cheese consumption. "Under the agreement, an additional 16,000 tonnes of natural cheese and 1,700 tonnes of cheese destined for industrial use (17,700 in total) will enter the Canadian market," explains Genereau. "Once CETA is fully implemented, tariff-free cheese imports from Europe are expected to account for over 72 per cent of the 44,495 tonnes of imported cheese coming into Canada annually." Leduc points to the gradual nature of the changes over the six years of CETA implementation: in year one, 2,950 additional tonnes of European cheese will be imported, with an additional 2,950 tonnes being added each year over six years to reach 17,700 tonnes annually.
In terms of types of cheese involved, it's expected that under CETA  European imported cheeses will displace both Canadian-made specialty and traditional cheeses — Cheddar and mozzarella, for example, as well as Swiss types and Havarti. "[It's expected] that Canadian cheese production will be reduced by approximately four per cent," says Genereau. "This will affect both Canadian dairy processors and producers." The expected decline in cheese production will translate into a reduction of approximately two per cent in Canadian farm milk shipments nationwide.
There are, however, two factors that may entice Canadians to keep buying Canadian cheese instead of European imports: significant improvements in quality as well as a desire to support Canadian cheesemakers — "buying  local" if you will, on a national scale.
"Canadian cheesemakers today are producing much better — read tastier — cheese," says Georgs Kolesnikovs, founder of the Great Canadian Cheese Festival, to be held this year on June 3 and 4 in Prince Edward County, Ont. "This has been obvious in judging for the Canadian Cheese Awards. The difference between the first competition in 2014 and the most recent one last year has been amazing. Every one of the 10 judges, experts from across Canada, remarked on the improvement in quality."
Besides overall general texture and taste improvements, Kolesnikovs adds that there is now a much wider variety of flavoured cheeses being produced by makers large and small, and that the use of water buffalo milk is growing.  Five Brothers Artisan Cheese near St. John's, Nfld., for example, makes Smokey Avalon Cheddar lightly smoked over applewood. Sylvan Star Cheese near Red Deer, Alta. makes a wide assortment of Gouda such as Nettle & Celery and Cayenne & Green Peppercorn. Lindsay, Ont.'s Mariposa Dairy offers many goat cheeses, from Fig to Cranberry & Cinnamon. And a "hot seller" at Natural Pastures in Courtenay, B.C. is their Pacific Pepper Verdelait, containing locally grown Paper Lantern habañero peppers.
Natural Pastures also makes a few water buffalo cheeses, as do at least four other cheesemakers in Quebec and Ontario. Water-buffalo cheese is in demand, says Kolesnikovs, because it's a novelty, and it's both generally richer than cow's milk cheeses and noticeably whiter. Those in the industry add that it is nutritionally superior to cow's milk, and can be eaten by many individuals who are lactose intolerant. Nevertheless, cow's milk remains the top milk for the overwhelming majority of cheese Canadians consume, due to its neutral flavour, availability and ease of handling. Goat's milk is more challenging to work with due to shorter protein strands that result in more delicate cheese that requires gentler handling. Sheep's milk, while rich in fat and protein, is expensive and also requires more cheese-making skill.
Variety and quality aside, Kolesnikovs believes the other way market-savvy Canadian cheesemakers can battle the increasing amount of European imports coming under CETA is to stress the "Made in Canada" aspect of their wares. However, he says "the farther one gets from Quebec, the epicentre of  artisan cheese in Canada, the less concern is expressed by cheese producers [over CETA imports]. In British Columbia, for example, it's very much an attitude of let's wait and see. In Quebec, on the other hand, producers have demanded compensation from the Quebec government and it looks like they will get it."
Nationally, financial assistance from the federal government is on the way. In November 2016, the feds announced the Dairy Processing Investment Fund: $100 million to help the sector adapt to the challenges that lie ahead. However, Genereau believes more is needed to help smaller dairy processors adapt. "Both DPAC-ATLC and its colleagues at the Dairy Farmers of Canada have been advocating for the allocation of the CETA cheese tariff rate quotas (TRQ) — the licenses to bring in the 17,700 tonnes of tariff-free European cheese under CETA — to the dairy processing sector, with a portion of the TRQs to be allocated to these smaller cheese processors." Genereau says this will help offset the impact of the imports on the industry, but will also encourage  Canadian importers to bring in new products which complement those already available in Canada.
---
Print this page