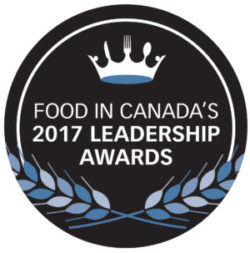 2017 LEADERSHIP AWARDS
Presented by Food in Canada & Grant Thornton LLP
Food in Canada's 2017 Leadership Awards is looking for outstanding Canadian food and beverage processors that can demonstrate achievement in one or more of the following areas: Growth, Innovation, Stewardship, Community & Industry Leadership and Health & Wellness.
Winners will be profiled in the April 2017 issue of Food in Canada.
All Canadian-based food and beverage producers and processing companies, pet food processors, agri-food companies, and food and beverage distributors and importers will be considered. An emphasis will be on those companies that encompass a broad range of successes across their business, including but not limited to: continual product innovation and design; expansion into new domestic or international markets; development of people and culture; production efficiency; financial growth; community involvement and support; an emphasis on healthy product development; responsible stewardship of resources; and strong progressive leadership within the company and within the food and beverage industry.
Please complete the information requested, as well as any supporting information (please do not send videos or products) and submit electronically (PDF or Word document) to [email protected], or by hard copy to Carolyn Cooper, Food in Canada, 38 Lesmill Rd., Unit 2, Toronto, Ont., M3B 2T5. Unfortunately we will not be able to return any submitted material.
Entries must be received by midnight Jan. 31, 2017

Judging criteria
Submissions will be evaluated in each of the areas listed below. Please note that the following categories include suggestions of the types of criteria the judging panel will be considering, rather than criteria that entries must meet. Entries do not have to satisfy each of the category criteria to be considered as a category winner. Companies may submit information for each category in which they wish to be considered. Entries that satisfy more selection criteria may receive a higher overall score from the judging panel. Financial information is an important and quantifiable indicator of success for the judging panel. It is encouraged that financial metrics be included where appropriate.
All information will remain private, and will only be reviewed by the judging panel. All decisions are at the discretion of the judging panel, and are final. Evaluations and decisions made by the judging panel other than for the category winners will not be made public and will not be released to any entrants. The judging panel includes Food in Canada editors, editorial advisory board members and Grant Thornton personnel.
Answers may be written in point form or essay form. Please include any measurable data available. Entrants may be contacted for further information or to review submitted information.
Eligibility requirements
To be eligible to enter Food in Canada's Annual Leadership Awards, companies must meet the following criteria:
Must be a food and beverage producer or processor, pet food processor, agri-food company, food and beverage distributor or importer.
Companies (either private or public) must be headquartered in Canada.
Companies must be majority Canadian-owned, or a subsidiary of a foreign-owned company with facilities in Canada.
Companies must have been in business for three years or more.
Companies must have achieved annual revenue in the last fiscal year of at least $2 million.
---